Michigan's #1 Boudoir Photography Studio
– authentic & empowering photo shoots for women –
Gorgeous West Michigan Boudoir Photography Studio located near downtown Grand Rapids, Michigan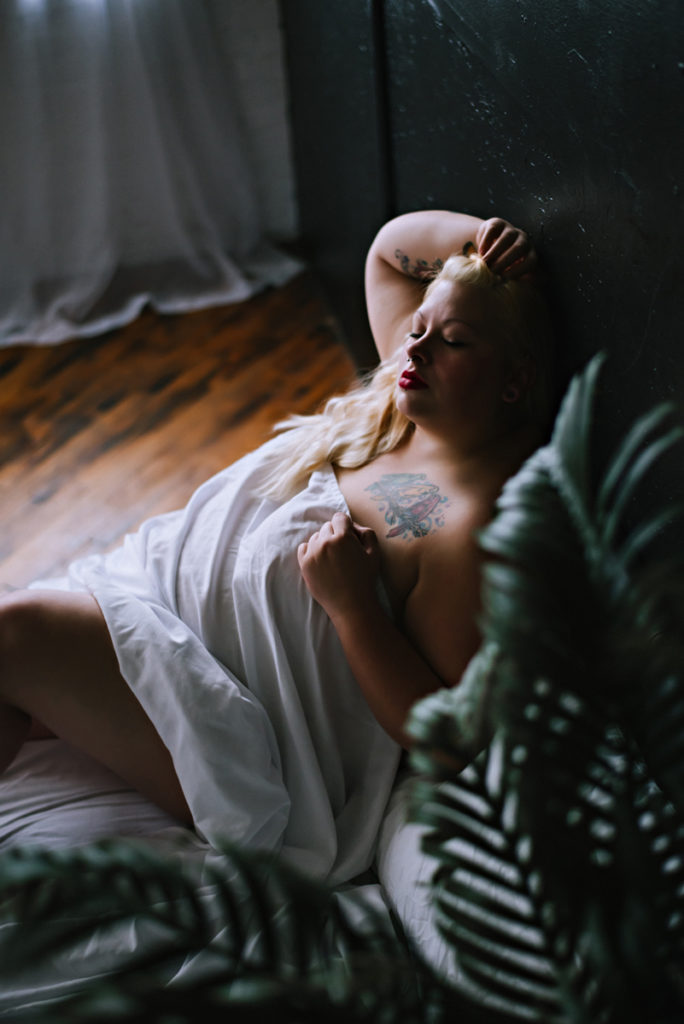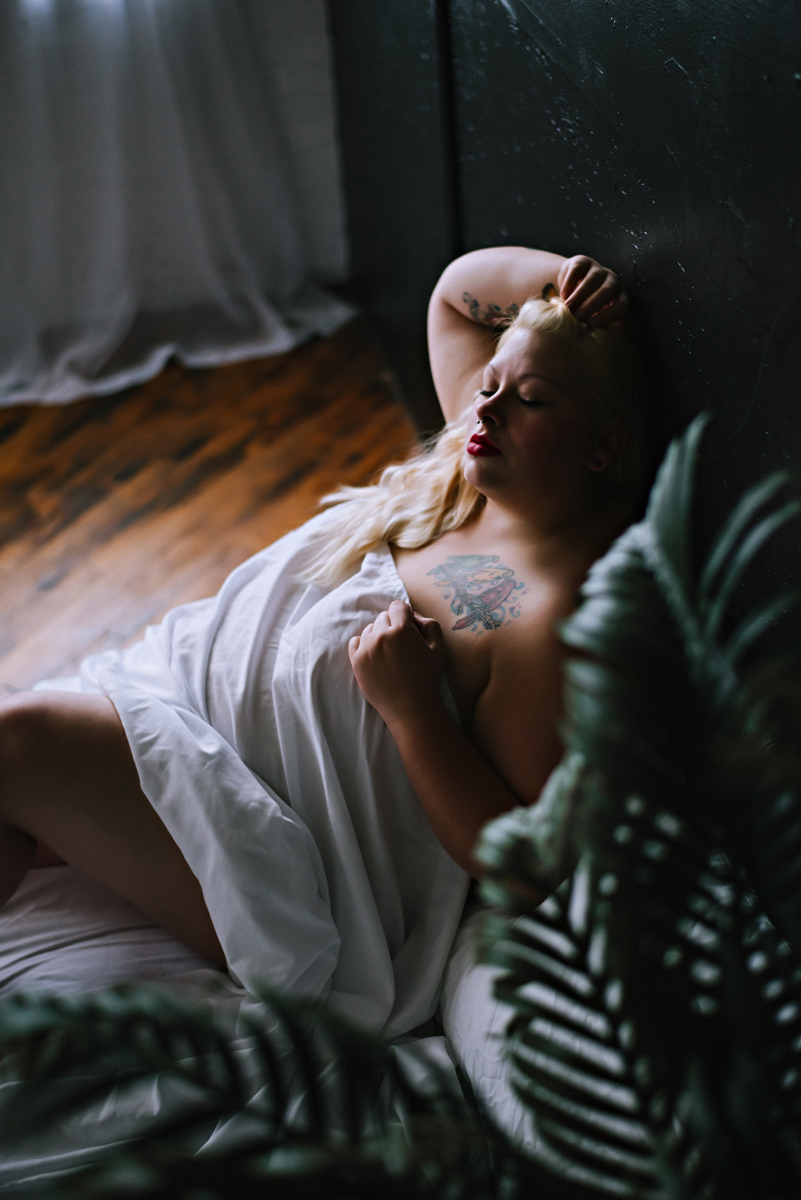 What is an #MBPEmpower
Photo Shoot?
It's so much more than just putting on pretty lingerie and taking fun photos. Enjoy the day being pampered and photographed exactly how you want to look, feel and be seen. Every woman deserves this experience to feel sexy and confident. My goal is for you to see your own inner light and self-worth and leave the studio feeling excited, happy and beautiful in body and soul.
More than just a boudoir photo shoot.
It is an empowering experience to learn to love yourself again and boost your self-confidence.
For EVERY Woman. ALL SIZES, ALL SHAPES, ALL AGES, ALL ETHNICITIES are meant to feel confident and sexy as themselves.
Every woman deserves to fall back in love with herself!
Photo shoots at my studio are like a ladies' day out. You'll spend the morning sipping mimosas, getting your hair and makeup done, and chatting about life. We'll go over what you've brought to wear and I'll create a plan for your shoot with different sets and lighting. I'll coach your posing and expressions so that you don't have to worry about anything besides admiring your stunning images that you'll love forever. A Same Day Reveal means you'll never have to wait to see your beautiful photos!
This Could be You!
Ready for Your Own Shoot? Let's Do This!
With all-female staff, professional hair and makeup styling, and a fun, relaxing atmosphere. It is the perfect space for an amazing boudoir photo shoot experience!
An authentic boudoir photo shoot like the #MBPEmpower Experience, gives you the opportunity to show your unique and individualistic beauty, whether it be sweet, edgy, sporty, elegant or anything in-between. We spend so much time being our own worst critics that we deserve to celebrate ourselves a little, splurge a little, and feel absolutely gorgeous!

Ready to book your unforgettable experience or just want to get some questions answered?

  LOVE WHAT YOU DO. DO WHAT YOU LOVE.

Why did I become a boudoir photographer? Because I want women to feel empowered and in control of their own destiny, their own body, their own sexuality. Women are often told how to look and what to feel. I want women to feel confident in doing what they want, looking how they want, and feeling whatever they want. Our boudoir photo shoots are a chance to show an authentic side of yourself. Be inspired to create something beautiful that speaks of your soul and connection to yourself and to the world.
I'm Michelle, the creator and boudoir photographer behind Michelle Burroughs Photography, and my focus is on women supporting women. I've created an all female space that empowers women to peel back the layers and show off the authentic you. Read through our blog and follow the journeys of the Muses in our community as they discuss what inspired them to do a shoot and how it transformed and grew their own confidence and self-love. Michelle Burroughs Photography is my vision of a world where women support other women to grow, to transform, and to love themselves. Learn more about WHY I became a boudoir photographer and how I started my journey to empower women.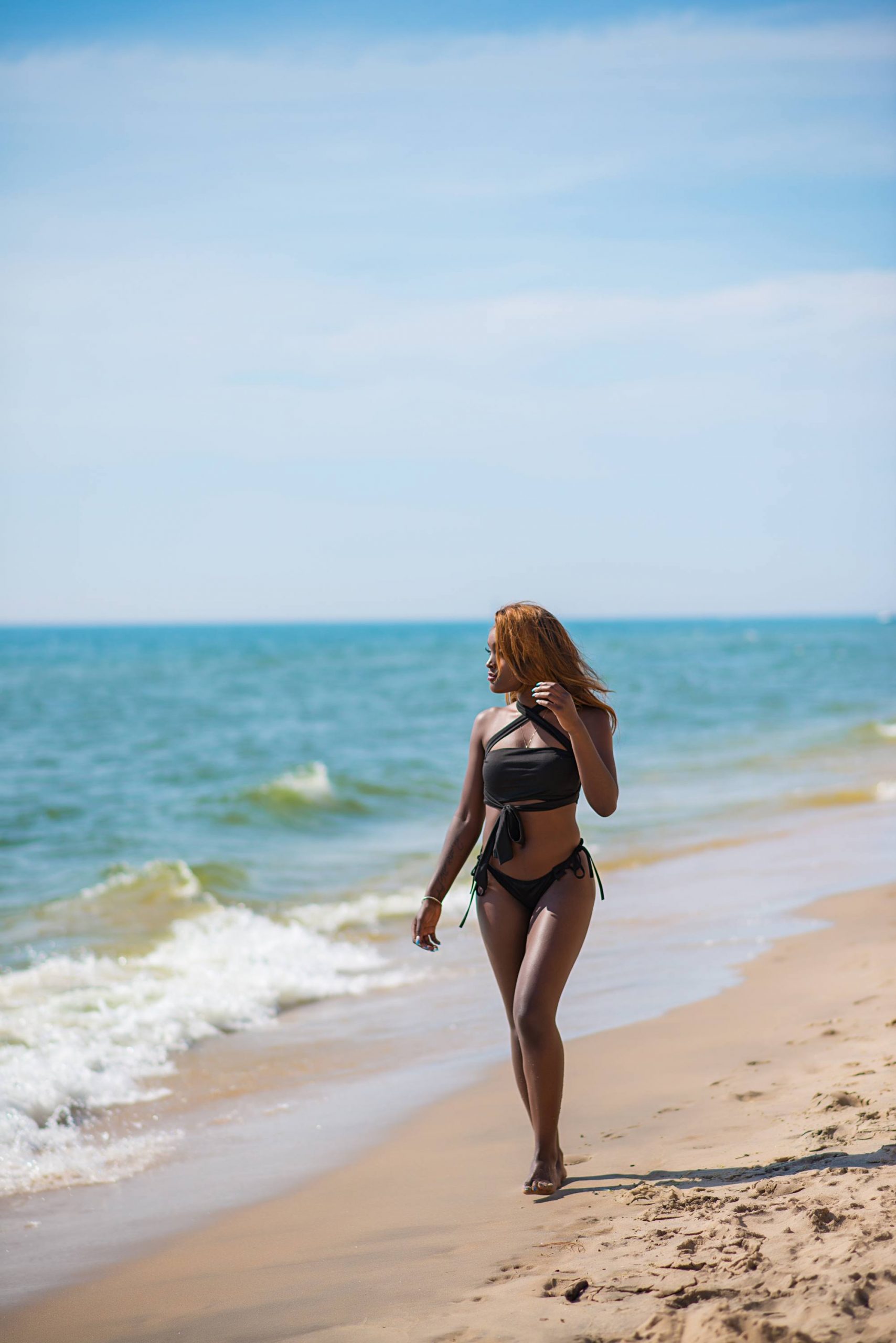 Frequently Asked Questions about Boudoir Photography
I'm really nervous about doing a boudoir photo shoot! What should I do?
Almost every woman who walks through the studio door is nervous at first! For most women a boudoir photo shoot is outside of their comfort zone and that's totally awesome! It's completely natural to be nervous and that is why I make sure every photo shoot includes hair and makeup. In addition to making you feel amazing, the time you spend getting your hair and makeup done allows us to chat about your shoot and settle your nerves. Believe me, after just a few minutes of me guiding you through posing, you'll be totally comfortable and having a wonderful time!
Do you offer makeup styling?
Yes, I do! Every #MBPEmpower photo shoot includes professional makeup styling. This photo shoot is about empowering you to feel confident and sexy and to me a huge part of that is feeling comfortable. A photo shoot is typically outside of your comfort zone and I want you to feel confident and comfortable before we get started. You'll spend an hour getting pampered and enjoying yourself with refreshments while we chat about what made you decide to do a shoot and how we can create an amazing experience.
What is included with the photo shoot?
The #MBPEmpower Photo Shoot Experience is $299 and includes a pre-shoot consultation to discuss why you want to do a photo shoot, what the experience is like, suggestions for an amazing photo shoot and how I can create an unforgettable experience that is authentic to you. You also get wardrobe styling advice that includes suggestions for what to wear to your photo shoot and pairing what you bring with the items I have in the studio. The photo shoot comes with hair and makeup styling by professionally licensed stylists and 1.5 hours of shooting with me including an unlimited number of wardrobe changes.
Afterwards is your same day in-person reveal and ordering session. I edit your photographs while you head downtown to eat lunch and when you return we'll watch a slideshow of your photographs and I'll help you choose your favorites. I offer a variety of stunning books, albums, wall art, digitals and more. You can see some of what I offer on the pricing and products page. Products, including digital images, are NOT included in the #MBPEmpower Photo Shoot Experience fee and must be purchased separately. Packages start at $799. Products are ready 2-4 weeks after your same day reveal.
How much do you edit the photographs?
I want you to know that you are as beautiful in real-life as you are in your photographs. With that in mind, I do not manipulate them but rather use lighting and posing to show off how amazing you already are. You just don't get a chance to see your beauty in your day to day life. I'll show you what others see when they take the time to truly see you and hopefully you will come to see the beauty that you hold inside and out.
Do you offer payment plans?
Yes, I do! I know that a boudoir photo shoot is an amazing investment in you and I want every woman to be able to afford it so I offer payment plans. I can break your balance into as many payments as you need (before or after your shoot) and as soon as your balance is paid in full you'll receive your products.
Do I have to have my photographs displayed on your website, social media, etc.?
Absolutely not! It is totally up to you if you would like to sign a model release and have your story showcased on our blog, etc. A lot of women are empowered by their photo shoot and want other women to see how amazing the experience is for themselves so they offer to be a Muse – a creative visionary who leads the way for others. What you choose to do with your photographs is completely up to you and just like with your body – you are in control and able to decide.
What should I wear to my boudoir photo shoot?
Whatever makes you feel amazing and empowered and authentically you! This shoot is about empowering you to fall back in love with yourself and rediscover how amazing you are. Check out this article to read some helpful tips on what to wear and links to online shops that I recommend for beautiful lingerie.