How did you feel before your photo shoot?
Going into the shoot I felt like a woman who has battled and overcome a lot. I felt proud of the progress I've made. I felt a desire to inspire other women.
And after?
After the shoot I felt empowered. My outside was reflective of the goddess I know lies within me. I am known among my friends as being confident in my voluptuous body but the shoot helped me see beauty where I previously hadn't.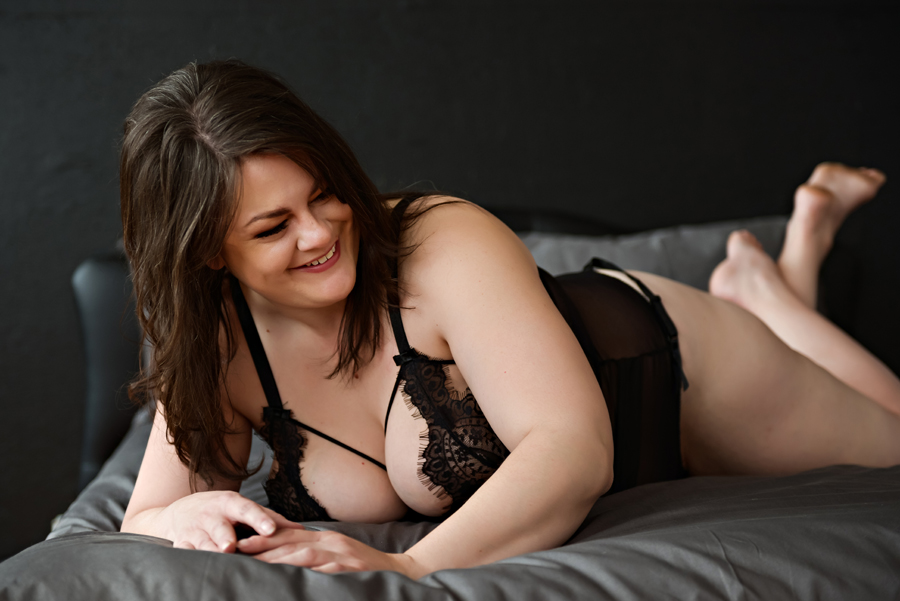 Why did you decide to do a boudoir photo shoot?
This is something I have desired to do for a while now. I was mistreated by some of the men in my life and have not always had the healthiest of coping mechanisms. My sexuality has been used to shame me. I want to own it. To embrace all of who I am as a woman. And to celebrate my freedom from being used. If a man is unworthy he will no longer have the honor of worshiping at my altar.
What is your best memory from your photo shoot day?
Laughing! So much laughing!
What was your favorite thing about your shoot?
Everything! Truly it was one of the most fun and positive experiences of my life. I got to share my story with these amazing women, who accepted me and cheered me on!
The whole team was amazing. I felt comfortable and confident throughout, like I was hanging out with my girlfriends!
How did you feel when seeing your photographs for the first time?
In love…with myself! It was really cool to see the strength and confidence I've been cultivating inside reflected in my physical appearance!
Our mission is to empower women through photography. What does "empowerment" mean to you?
Empowerment means feeling safe and confident to step into your truest, strongest self and knowing you are supported by other strong women.
What would you tell other women considering a boudoir photo shoot?
Do it! You have your whole life to buy more shoes, clothes, and makeup. Splurge on an opportunity to tell *your* story, to celebrate how far you've come, to see and show the goddess you really are!