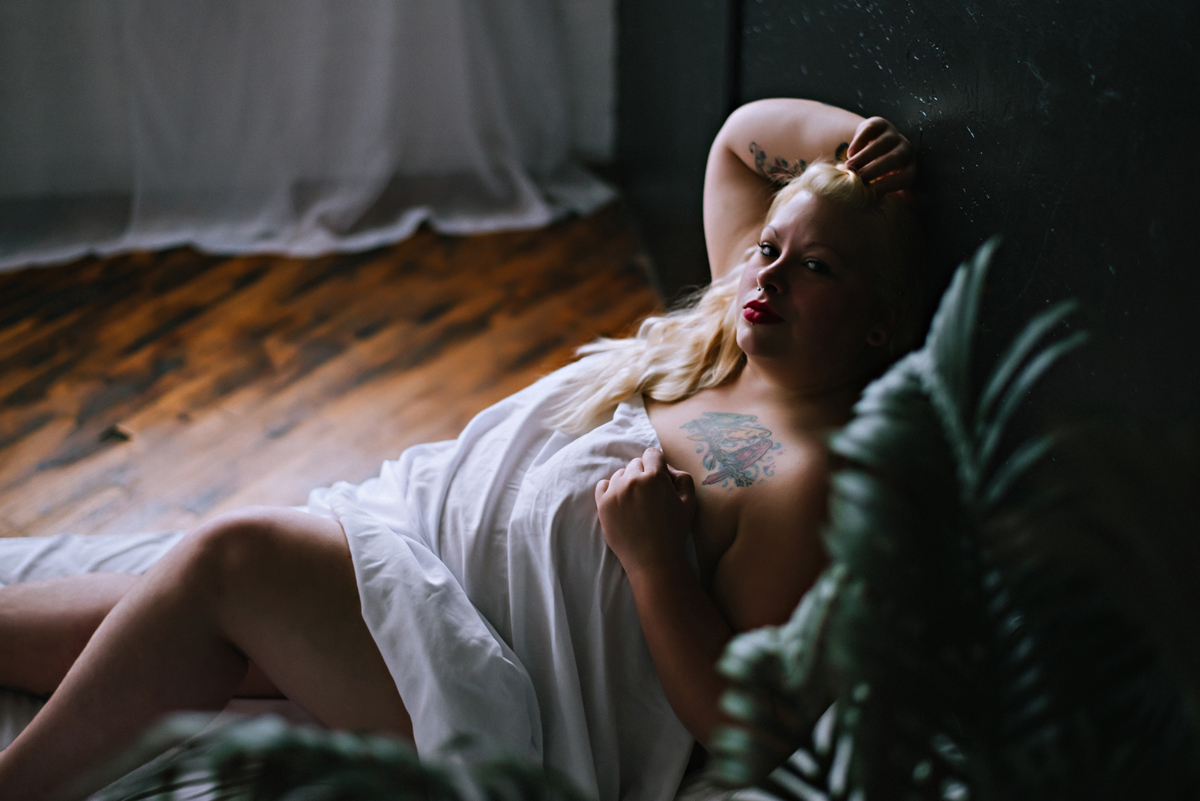 I'm really nervous! What should I do?

This is my most frequently asked question about doing a boudoir photo shoot! Just know that almost every client that walks through the studio door is nervous at first. For most women a boudoir photo shoot is outside of their comfort zone and that's totally awesome! It's completely natural to be nervous and that is why I make sure every photo shoot includes hair and makeup. In addition to making you feel amazing the time you spend getting your hair and makeup done allows us to chat about your shoot and settle your nerves. Believe me, after just a few minutes of posing, you'll be totally comfortable and having a wonderful time!

Do you offer makeup styling?

Yes, I do! This is another of my most frequently asked questions about boudoir photography. Every photo shoot includes professional makeup styling. This photo shoot is about empowering you to feel confident and sexy and to me a huge part of that is feeling comfortable. A photo shoot is typically outside of your comfort zone and I want you to feel confident and comfortable before we get started. You'll spend an hour getting pampered and enjoying yourself with refreshments while we chat about what made you decide to do a shoot and how we can create an amazing experience.

What is included with the photo shoot?

The Goddess Photo Shoot Experience is $350 and includes a pre-shoot consultation to discuss why you want to do a photo shoot, what the experience is like, suggestions for an amazing photo shoot and how I can create an unforgettable experience that is authentic to you. You also get wardrobe styling advice that includes suggestions for what to wear to your photo shoot and pairing what you bring with the items I have in the studio. The photo shoot comes with hair and makeup styling by professionally licensed stylists and 1.5 hours of shooting with me including an unlimited number of wardrobe changes.

Afterwards is your same day in-person reveal and ordering session. I edit your photographs while you head downtown to eat lunch and when you return we'll watch a slideshow of your photographs and I'll help you choose your favorites. I offer a variety of stunning books, albums, wall art, digitals and more. You can see some of what I offer on the pricing and products page. Products, including digital images, are NOT included in the Goddess Photo Shoot Experience fee and must be purchased separately. Products start at $1500 and are ready 2-4 weeks after your same day reveal.

Do you offer payment plans?

Yes, I do! I know that a boudoir photo shoot is an amazing investment in you and I want every woman to be able to afford it so I offer payment plans. A deposit is due at the time of your same day reveal and the balance can be broken up into up to eight monthly payments. As soon as your balance is paid in full you'll receive your products.

How much do you edit the photographs?

I want you to know that you are as beautiful in real-life as you are in your photographs. With that in mind I do not manipulate them but rather use lighting and coach you through posing to show off how amazing you are but that you don't get a chance to see day to day just living your life. I'll show you what others see when they take the time to truly see you and hopefully you will come to see the beauty that you hold inside and out.

Do I have to have my photographs displayed on your website, social media, etc.?

Absolutely not! It is totally up to you if you would like to sign a model release and have your story showcased on our blog, etc. A lot of women are empowered by their photo shoot and want other women to see how amazing the experience is for themselves so they offer to be a Muse – a creative visionary who leads the way for others. What you choose to do with your photographs is completely up to you and just like with your body – you are in control and able to decide.

What should I wear to my boudoir photo shoot?

Whatever makes you feel amazing and empowered and authentically you! This shoot is about empowering you to fall back in love with yourself and rediscover how amazing you are. Check out this article to read some helpful tips on what to wear and links to online shops that I recommend for beautiful lingerie.

Do you have more photographs I can see?

Absolutely! Check out my Gallery and Instagram page to see my latest photographs and studio sets. If you'd like to view a sample of a full client gallery, just send me an email at hello@michelleburroughs.com or via my Contact page.

Do you have a question that I didn't add here?

If you have more questions that I didn't answer in this frequently asked questions page, just send me an email at hello@michelleburroughs.com or via my Contact page. I'm always happy to talk with you more and answer any questions that you have!