Boudoir photography isn't just for women! It's also a chance to reconnect and get intimate with your partner. Just like with women's boudoir, you don't have to be a certain age or a specific weight to do a couple's boudoir session. All you have to bring is the love you share (and a few outfits) and a willingness to be open and vulnerable. All love is beautiful and you should celebrate yours!
Here's Why You Should Consider Doing a Couple's Boudoir Photo Shoot
Feel comfortable in your skin
One of the most wonderful things about being in a loving relationship is learning to see ourselves the way our partner sees us. As a gorgeous, sexy, amazing woman. Instead of focusing on "flaws" when you look in the mirror, you can remember that you are loved and perfect just as you are! And this goes both ways! Men struggle with body issues just as much as women—they're just less likely to talk about it.
A couple's boudoir photography session is the perfect way to see and reconnect with your beautiful self (and your partner!) in photos that remind you how great you two are together. Enjoying the intimate and vulnerable experience of a boudoir session will create greater intimacy and joy in your relationship as well as being a great reminder of how your partner sees you and how valuable that feeling is.A boudoir session can be an opportunity for both of you to feel more comfortable and at home in the skin you're in and learn to love yourselves a little bit more.
Celebrate a beginning
Want to celebrate the beginning of your new life together? Engagement photography isn't the only way. A couple's boudoir session can be a beautiful way of capturing and celebrating the intimacy and love you share and a way to mark your new beginning as newlyweds. While you probably won't share them with all your friends and family, you'll treasure the photos that capture a very personal and intimate and sexy side of your love for each other.
You can also use boudoir to mark other milestones in your life, like the birth of a child or a major change in your relationship. Couples choose to do boudoir photography for any number of reasons or without a reason at all. Maybe you just want some intimate photos of how much you adore one another, and there's absolutely nothing wrong with that!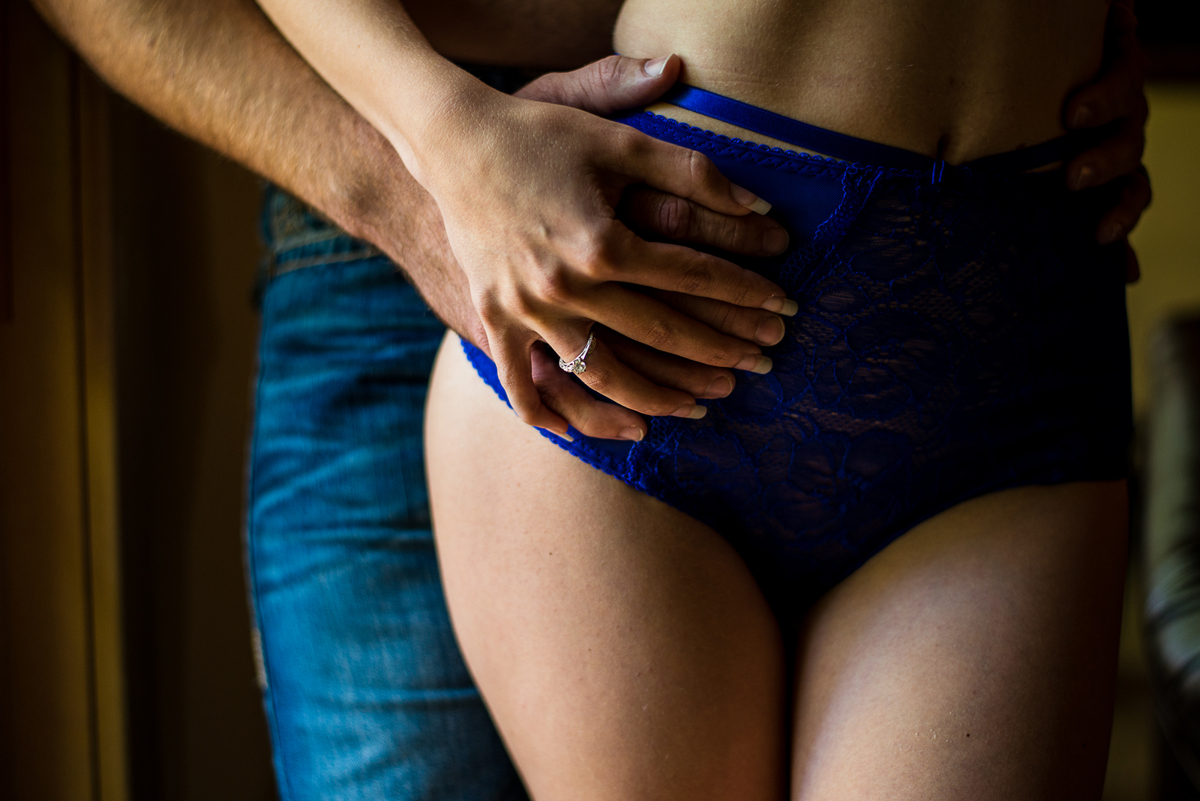 Capture a love that has lasted years
Love and marriage can be challenging in a variety of ways, and it's important to be grateful for the person who has stood by your side through it all. Celebrate your love with a couple's boudoir session and remind each other how much you appreciate one another and how glad you are to have the other person in your life.
Reconnect with one another
Whether you're going through a difficult transition in your life or you're starting to feel distant from one another, a couple's boudoir session can offer you an opportunity to reconnect and re-center your relationship around one another. Maybe you've been through a traumatic experience and just need to remember the love that has held you both together.
Whatever your reason, boudoir photography can offer a unique chance to be vulnerable and open with one another and to rekindle the intimacy you may struggle to feel at times.
Remind yourself of your sexiness
Being sexy is not limited to a specific age or weight. And there is nothing sexier to you than the person you love. Boudoir photography allows you to celebrate your physical connection and the sexual attraction that drew the two of you together at the beginning of your relationship. Seeing couples celebrate the unique ways they love one another is one of the many joys of boudoir photography.
Interested in learning more about a couples boudoir session?
Contact Me and I'll send you all the details!